So we've succesfully completed our first official week of homeschooling. It went really well. Jillian is loving it so far. It is a lot of work though. Between the research and the prep, and then actually doing the lessons. when I think of twelve years of this, I already start feeling tired. Not that I am sure that we're going to be doing it for that long. One year at a time.
On Thursday we went to The Yale University Art Gallery to view the Van Gogh exhibit. Starry Night and Cypresses. I'm not a big Van Gogh fan, but I must say Cypresses is really gorgeous in person. Jillian loved them both. However, she was a bit dissapointed because I guess I didn't do a good job of explaining to her what exactly an art exhibit entails. She thought that Vincent VanGogh would actually be there, on stage, incorporating his paintings into some sort of performance. she still managed to have a good time though. we weren't able to take pictures of those two pieces that were there on loan, but we were able to snap some shots of other things around the gallery.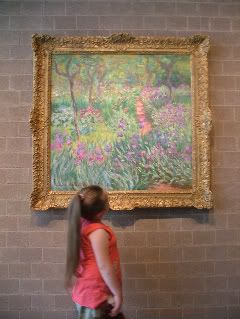 Jillian appreciating a Monet.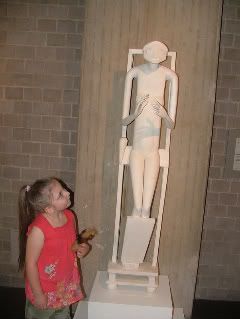 She found this sculpture incredible funny. She just stood there, looking up at it and laughing.
After the gallery we went and had lunch at Atticus. It was a good day.
In other news, one of Jillian's hermit crabs died. :( she was
really
upset about it. she made us have a funeral and bury it. She said "Delilah was a good crab. She was always sweet and kind, and she never pinched us". :(
Her other crab, Daphne was looking kind of lonely in the cage all by herself, so I took Jillian to the pet store the next day, and we brought home Sweetberry. It's been a few days, and Jillian seems to be slowly getting over it.